Hello!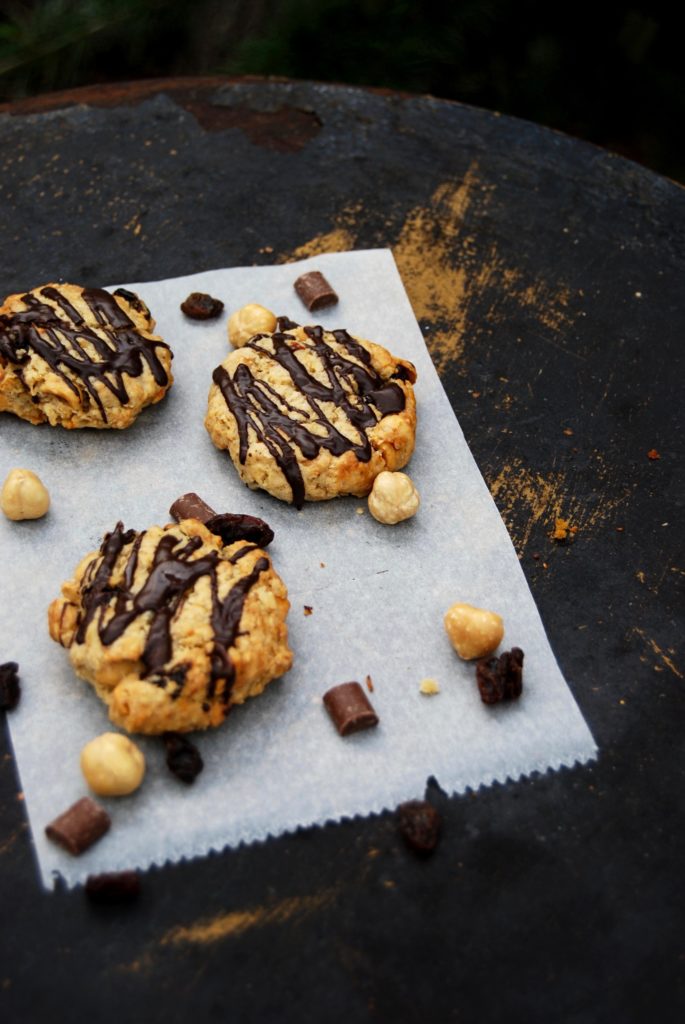 Here is the ultimate oatmeal cookie recipe! I honestly feel a little like Phoebe (from Friends) with her oatmeal cookies:) These cookies are unbelievably soft, chewy and filling, perfect for breakfast on the go, as an afternoon snack or as dessert! Also, credits to my mom for finding the recipe!
These cookies have reached a level of fame in my house, that no other recipe has quite achieved! This just proves that they're not your typical bland, crumbly oatmeal cookies, but your new (probably) favorite cookies. The key is to use good quality hazelnuts and raisins, their aroma makes these oatmeal cookies the best of them all!
On a side note, I seem to be balancing posting/baking and school reasonably well, or at least, it's better than last year, which means I'll actually be posting on here somewhat regularly!
On another side note, I'd figured I'd tell y'all of my current jams, which are: "Rain" by The Script, anything and everything by Fleetwood Mac and everything (again) by Yiruma (great for studying too!).
Recipe credits (adapted by my mom and me)
X,
Stella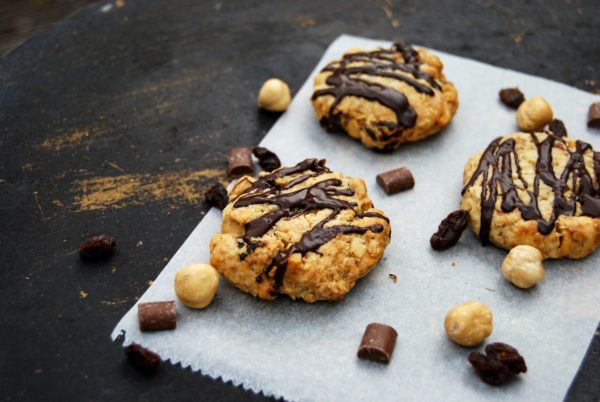 | | |
| --- | --- |
| | |
Mix flour, oatmeal, butter, brown sugar, baking powder and salt until it resembles a crumbly dough (this works best if you use your hands to mix the dough!).

Add maple sirup, hazelnuts, raisins and water and mix until a firm dough is formed.

Roll the dough into one (or several small), approximately 5cm in diameter, roll/sausage. Wrap in plastic foil and place in the fridge for 30 minutes.

Preheat the oven to 200°C.

Take the dough sausage out of the fridge and cut into 2cm thick slices (you might need to press the slices together so they don't crumble when baking).

Place on a baking sheet lined with baking paper and bake for 10-12mins.

When the cookies have cooled, prepare the chocolate glaze, following the directions on the package. Drizzle in a zig zag motion over the cookies and let set.
Notes:
You want to make sure your butter is super soft, otherwise the dough won't come together properly.
You could also replace the sugar with erythritol (no calorie sugar), which I haven't tried yet, but want to!
Nutrition Facts
Oatmeal Cookies with Raisins, Hazelnuts and Chocolate
Amount Per 25g
Calories 172 Calories from Fat 90
% Daily Value*
Total Fat 10g 15%
Saturated Fat 4g 20%
Polyunsaturated Fat 1g
Monounsaturated Fat 5g
Cholesterol 14mg 5%
Sodium 63mg 3%
Potassium 74mg 2%
Total Carbohydrates 18g 6%
Dietary Fiber 2g 8%
Sugars 4g
Protein 3g 6%
Vitamin A 4%
Vitamin C 0%
Calcium 2%
Iron 5%
* Percent Daily Values are based on a 2000 calorie diet.